This is not perfect guide, myself's memo...
---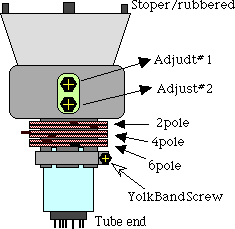 Adjust#1 and 2, I don't know.
But a moved then effecting screen...
If you try this adjust, before a checks marked line to its.
Stoper/rubberd-wedge for if moving to foward or back of YolkUnit. before remove Stoper(3)and YolkBand screw.
2pole a pair magnet for purity.
4, 6pole for convergence.(stastic and dynamic)

---
Stastic Convergence


At first show center area adjust red and blue by 4pole
Magenta(blue, red) to on green. Successful? then White!



same a looing center, adjust magenta onto green.

---
Dynamic Convergence


Show a monitor Cross hatch Pattern(Tool ex: snooper) 4 pole magnet yolk move to open, red Vert-line onto blue and all of rotate(pair of 4pole)for H-line.
---
whats 4,6pole convergence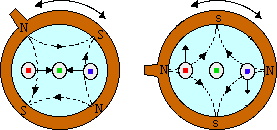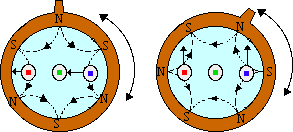 ---
SETTING A YOLK