So CPU fan add register too! W-fan's ColorClassic.
---
---
---
Original Inter-fan Unit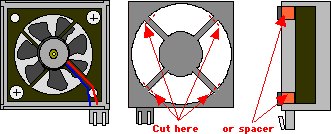 It's a vacuum cleaner sound during work of mac.
I say "hush-up mac"..(Not shut down) If you will silent Color Classic, get tune of fan unit!
Easy, remove above item or add spacers.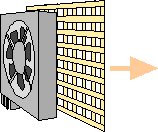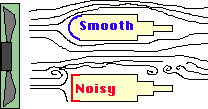 Noisy...? filing a edges to rouded. Nomal air outlet of ColorClassic rear are turbulencing(Noise). If rounded outlet, smoothy.
Attention, do not too filing. (fragile squer block area)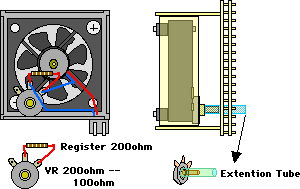 If nomal 030 CPU, slow down fan speed. (silently)
Using gum for attach the VR unit.
Warning: If set to too slows this fan, over heart...effect screen...Bomb!
(Next planing...thermo device IC , automatic controled of fan speed by temperature.)
---
CPU cooler(logic board)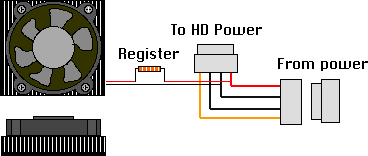 If your mac boost clockup or accelerator040,060, get on the CPU cooler(fan)
But a full speeded fan are too noizy! OKey, insert a register 47--75 ohm/1W.
Pick your nearest parts-shop its cheep price.

---
ANALOG BOARD
BACK ANA-BOARD
ADJUST-COLOR
SETTING A YOLK
COOL THE MAC
Boost CC
---